1C Company has rated the best industry solutions according to 1C partners-franchisee in 2013. 1C-RARUS software products are in TOP-10 of the most quality solutions again. These are industry solutions 1C-CRM, 1C-RETAIL, 1C-CATERING, and VECIHLE TRANSPORT MANAGEMENT.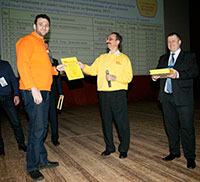 Branches: CRM (Customer Relationship Management), Restaurants and Catering, Retail, Transport, Logistic
1 – 3 March 2013 1C Company has held Spring Partner Seminar with 1400+ 1C-franchisee representatives in Moscow. The best industry solutions on the basis of the 1C:Enterprise 8.2 platform were rated. This rating was completed by 1C partners-franchisee poll, where they estimated the quality and support of the co-branding products.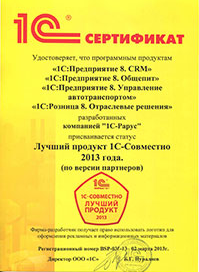 The following 1C-RARUS products are in TOP according to 1C-franchisee opinion:
1Р1C:CRM Line — 2-d place (9 points from 10);
1C:Catering — 3-d  (8.9 points from 10);
1C:Vehicle Transport Management — 9-th place (8,5 points from 10);
1C:Retail Line — 10-th place (8.3 points from 10).
The number of factors affects the industrial solutionsРІР'в"ў quality: proactive work on the functionality, error treatment, integration, documentation and methodological materials.
We are proud of our high positions in the rating, that prove the longstanding contribution of 1C-RARUS in the industry solutionsРІР'в"ў based on the 1C:Enterprise platform development. Today the our company suggests 70+ box solutions for more than 17 industries.