1C-Rarus has conducted the first spring common 1C seminar in 4 Russian cities: Moscow, St. Petersburg, Novorossiysk and Kazan. The event was visited by 1.000 accountants and specialists in financial accounting. Together with the traditional report about the specifics of the unified form of accounting in RPF, some recommendations have been shared. They are reduced rates for online VAT return submission, on-line check of tax return and new ways of conducting a payroll plan and control of Salary Fund and other useful recommendations from 1C-Rarus experts.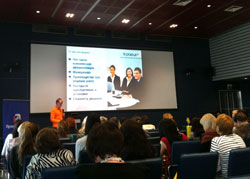 On April 2, 2014 Moscow, Petersburg, Novosibirsk and Kazan Offices of 1C-Rarus organized a spring common seminar for 1.000 financial specialists. The event is traditionally performed by the representatives of 1C: Franchisee 3 times a year. It allows accountants to receive up-to-date, useful and important information about work in information systems and preparation of regulated reporting.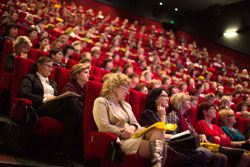 During the first seminar in 2014 the topical aspects have been discussed, i.e. details of tax preparations in the RPF for the 1 quarter of the current year, use of the new unified accounting form to RPF, use of the special reduced tariff for online VAT return submission, possibilities for on-line check of tax returns, getting information and services for 1C users with the help of 1C: Informational and Technological Support. Some recommendations have been provided, i.e. how to calculate income tax expense, using efficiently the order for amortization entries of fixed and intangible assets on the base of 1C: Accounting 8. 1C-Rarus experts have told about new possibilities of conducting a payroll plan and control of Salary Fund, inter-calculation payments and other options of 1С: Payroll and HR Management. Issues on legal electronic document exchange with inspection bodies and contractors have become essential for many participants of the Common Seminar.
A special guest from the Moscow branch, Elena V. Pozdnyakova, reported on preparation of tax accounting. She is an author of the teaching program on financial accounting in the Finance Academy under the Government of the Russian Federation, a licensed auditor and counsellor, an active member and a leading adviser of the Institute of Professional Accountants of Russia. She clarified that the interim financial statements can be created both on paper and in electronic format but not later than 30 days  after the end of the reporting period, including balance sheets and income statements (except as otherwise provided by the legislation of the Russian Federation or any other founder members). Among some convenient tools there is an accountant calendar in 1C: Accounting 8 that alarms approaching deadlines for the reporting submission and 1C: Information and Technological Support that contains all necessary answers to up-to-date questions about document preparation.
The serious lecture part was diluted with expert consultations, coffee-breaks and lotteries among the participants of the common seminar. All visitors were able to share their views, experience and get pleasant emotions and valuable advice from 1C-Rarus experts.
If you were not able to visit the event but are still in need to receive new information on reporting preparation, the slide show of our lecturer, 1C: Information and Technological Support can help you. And you can always contact 1C-Rarus experts at: