Smarton and 1C-Rarus are realising a joint project on automation of the customer's service based on 1C: Trade Management software so as to improve the customer service quality. The modernization will touch the following issues: sales, purchasing, finance, logistics, and warehouses.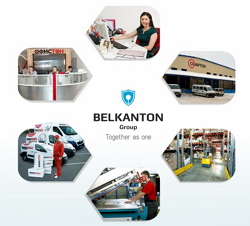 As part of the agreement on co-operation and modernization, they plan to automate the main business processes (sales, purchasing, logistics, and finance) of the customer. The customer that is Smarton is a leading importer and distributor of stationery and office supplies in Belarus.
According to the deputy director on business processes at Smarton, Sergey Voytko, they are planning to develop the unified complex system that can allow the company to optimize its sales and purchasing processes. The necessity for modernization of this sort has aroused at the company since its turnover and customer base have been increased dramatically. Over the years, Smarton established an exclusive collaboration with more than 40 world-known companies. The company has managed to build direct communication with all its partners and customers. It deals directly with foreign manufacturers and ships goods to its customers by its own transport.
"We collaborate with the following world-known trade-names: Pentel, Maped, Esselte, IP, Kores, Casio, Durable, Kangaro, Apli, Senator. Besides this, we serve a considerable number of Belarusian companies. The need in complex information system has appeared to provide the efficient work and business management. This system will allow its users to process tender and customer orders, manage souvenir production and sales," comments Sergey Voytko.
To solve the highlighted tasks, the company has chosen 1C: Trade Management software based on 1C: Enterprise 8. At this stage, the company involved 1C-Rarus experts because of their experience, qualification and a number of successfully deployed projects.
The 1C-Rarus experts will solve some important issues, noticed by Sergey Voytko, on the base of the new information system.
The system will involve logisticians and experts at warehouse accounting to plan goods supplies and shipping efficiently.
To monitor and respond promptly, the experts will adjust notifications on the customs registration and declaration of goods.
1C-Rarus experts will integrate "Warehouse" subsystem with the unified, complex system 1C: Trade Management to inform about the actual transfer of goods efficiently and in a timely manner.
The system will help to automate all financial calculations.
The project team from Moscow will realise all issues, set forth for 1C-Rarus.
According to the deputy director on business processes at Smarton, Sergey Voytko, this project will improve the business management as well as customer service quality at the company.
About Smarton

Smarton Company that is a part of Belkanton Group of Companies is a leading importer and distributor of stationery and office supplies in Belarus. Smarton offers goods of high-quality only that is a vital term for the effective and fruitful work. It offers stationery and office supplies, paper, digital, presentation and post-printing equipment.
Smarton pays much attention to the high-level service offered to its customers: convenient system of orders, a showroom, free delivery, detailed catalogues of goods, and a wide chain of regional offices on the territory of Belarus.